Silence Brand: A Complete Guide To Meme Marketing
Silence Brand: A Complete Guide To Meme Marketing
" Memes are nothing but a good sense of humor." 
Meme culture has taken over the internet since the rise of social media. Meme marketing is a new and popular way to reach your target audience as digital marketing evolves.
Meme marketing is a form of online marketing that uses memes, commonly "Silence, brand" these days, to reach and engage consumers. Since memes are often humorous and shareable, they are great for promoting products.
NYU Dispatch reports that traditional marketing graphics have 5% engagement, while memes generate 60% organic engagement with a ten times higher reach to the customer.
So, how does meme marketing incorporate Silence Brand and how can businesses utilize these memes to promote their business?
Learn More: How to be more productive as an online small business owner
In this article, you will find everything you need to know about the Silence, Brand: a competitive guide to meme marketing. 
What is Silence Brand Meme?
The "silence, brand!" meme is a popular meme format often used in meme marketing. This meme is about how companies use social media to appeal to internet users by making themselves relatable and funny. 
Silence Brands don't use traditional marketing techniques like commercials or print ads. Instead, they rely on word-of-mouth or mostly viral meme marketing. 
However, some people find silence brand memes inauthentic and irritating, so they consider them disgusting and stupid marketing.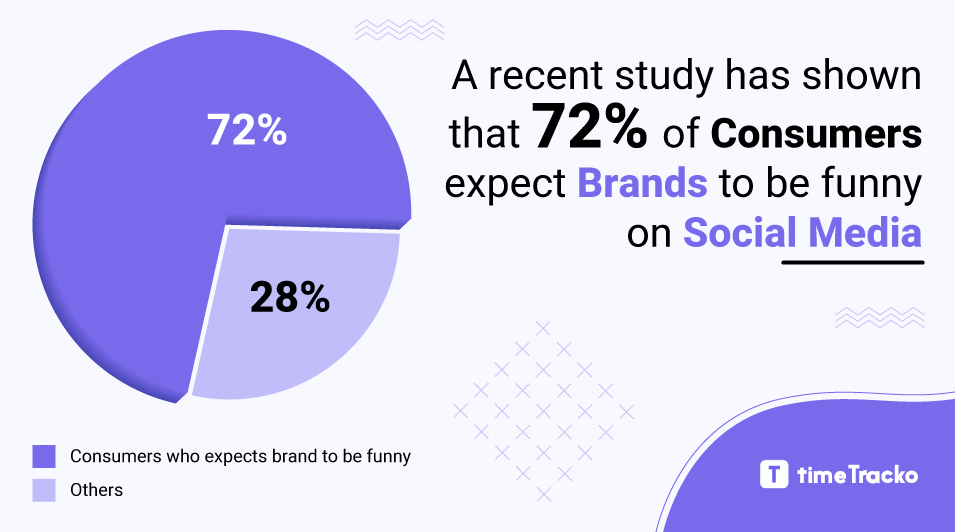 Companies are now using memetics to market their products, but consumers see through the advertising and find it tasteless and manipulative.
Although silence brands may not be as prevalent as other types of memes, they still hold an important place in meme culture. These memes can communicate a powerful message without words, which can help reach a wider audience. 
Before using them in your next meme marketing campaign, it is important to know about the background of silence brand memes and how you can employ them in your business. 
Origin of Silence Brand Meme
The meme trend of the past few years used to be overly formal, boring, and not quite fun until Denny's came along with a game-changing official Tumblr account. As a result, they started having a good time which attracted a variety of people through memes.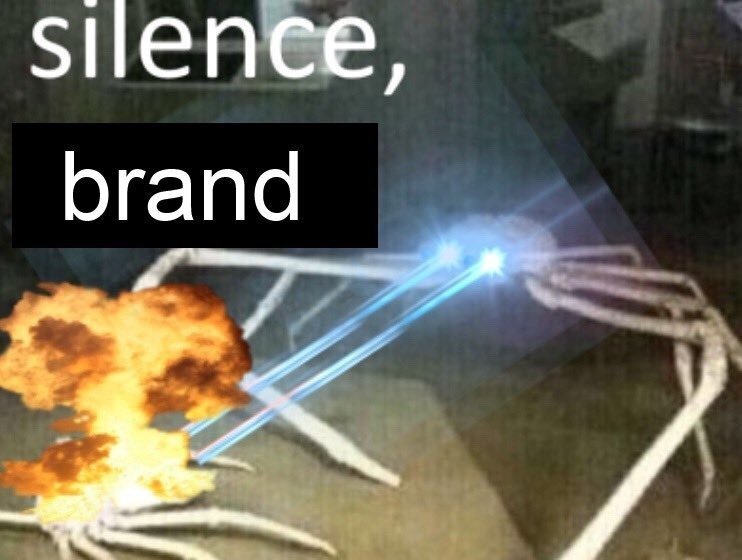 It took a little while, but soon other brands jumped onto the strategy. Arby's started posting memes, Wendy's dropped a mixtape and then engaged in a back and forth of burger king and Mcdonald's and Jan zias seemed to enjoy it. 
Other brands attempted it too, but without commuting fully they failed to get the same appeal. 
In the aftermath of all these relatable memes flooding the web, people started to feel a little exploited. Thus, a new meme "Silence, brand" was born. "Silence brand" emerged as a reaction image from an exploitable meme known as shut up, liberal. 
The meme was designed as the spider crab with laser eyes aerial font 32 points white on black bar background no shadow with text silence, brand. The origin of the silence brand meme started to appear on the internet circa 2016 on Twitter.
Advantages and Disadvantages of Silence Brand in Business
Internet users have been talking about the silence brand meme and its benefits and drawbacks exist.
Many people across social media platforms have used the Silence Brand meme. It has been used as an expression of frustration or boredom in response to something happening on the internet or as a reaction to someone's comments on social media posts.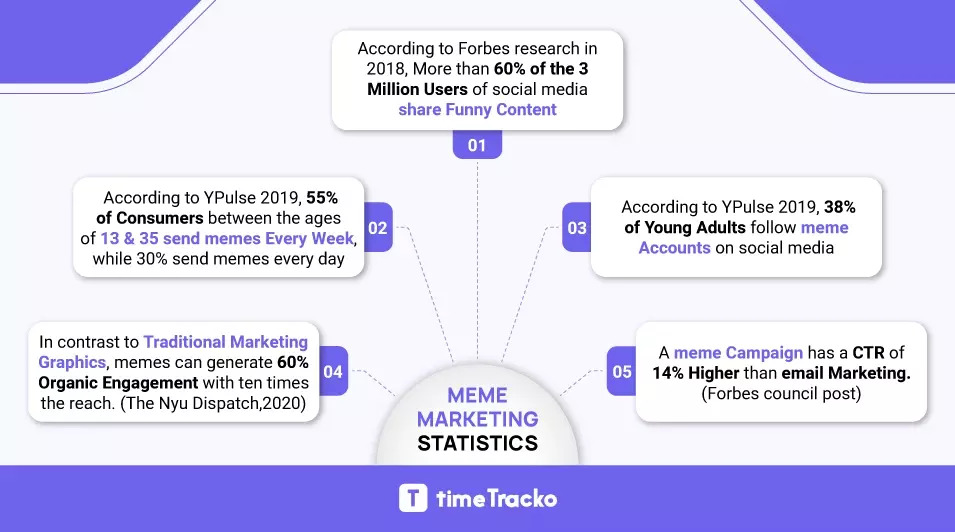 While silence brand memes have become increasingly popular among businesses, the practice has its advantages as well as disadvantages as described below.
Advantages of silence brand memes
Some of the advantages of implementing silence brand memes in marketing strategy are:
They can be highly effective in terms of reach and engagement, as well as being relatively inexpensive to produce. 

Silence brand memes can be easily shared and spread across social media platforms.

The purpose of a silence brand meme in digital marketing is to capture attention. Since memes are catchy and funny, they can easily grab attention.

Memes are a quick way to communicate. They do not have to hold viewers' attention for long to convey a message. The use of memes can help brands deliver their marketing messages within the short attention spans of their audiences.
Learn More: How to Improve Employee Engagement in the Workplace
Disadvantages of silence brand memes
Some disadvantages of implementing silence brand memes in marketing strategy are:
Some people may view silence brand memes as being unoriginal and juvenile. They often feel memes are a waste of time and that there are better things to do with one's time than to look at memes. 

Memes often refer to current events, so there is a risk that the humor will not be taken as intended and will be handled incorrectly. This can negatively affect the brand instead of boosting it.
Best Example Of Silence Brand Meme
Some companies have recently used Silence brand memes as part of their marketing campaigns. The use of memes has helped companies reach new audiences fun and lightheartedly.
The following are some of the best Silence brand meme marketing examples: 
1. Mcdonalds
McDonald's is one of the world's most recognized fast food chains. It is the second largest restaurant chain in retail sales, with more than 60 years of experience.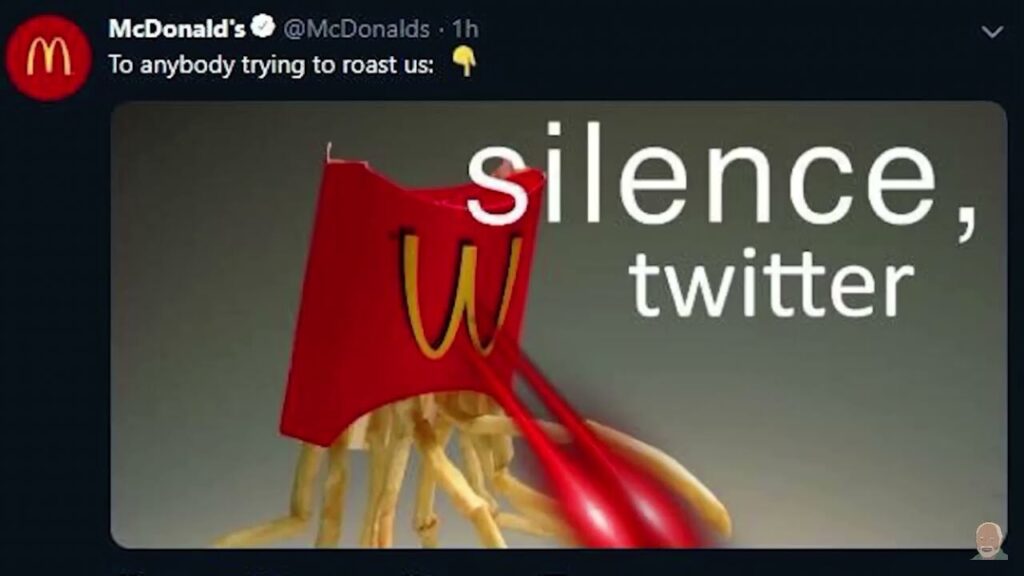 McDonald's uses a Silence Brand Meme marketing to engage with its customers on social media sites like Instagram and Twitter. This technique generates awareness about the brand and creates an emotional connection with the audience.
2. Funyuns
Funyuns is a brand of onion-flavoured cornmeal snacks. It was established in 1932 and had its headquarters in Chicago.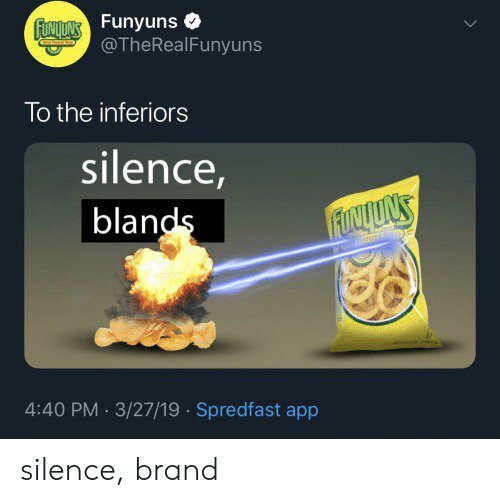 In September 2017, the brand partnered with Silence Brand Memes to create a series of memes that show what would happen if the Funyuns people had to go through life without their favorite snack. This successful campaign generated more than 2 million organic impressions on social media channels.
3. Wendy's
As the world's largest international fast food chain, Wendy's was founded in Columbus, Ohio, by Dave Thomas (1932-2002).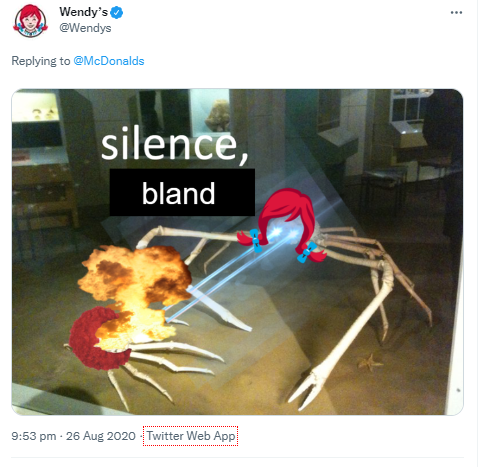 Wendy's uses silence, a brand, as a branding strategy to stay true to its values and not use the same marketing tactics as competitors. The company also remains relevant by using meme marketing, which helps them reach out to new audiences on social media platforms like Instagram and Twitter.
4. Sonic the Hedgehog
Sonic the Hedgehog is a Japanese video game series and media franchise created by Sega. The series centres on a blue hedgehog named Sonic, who can run at supersonic speeds and transform into a ball to defeat enemies and traverse obstacles.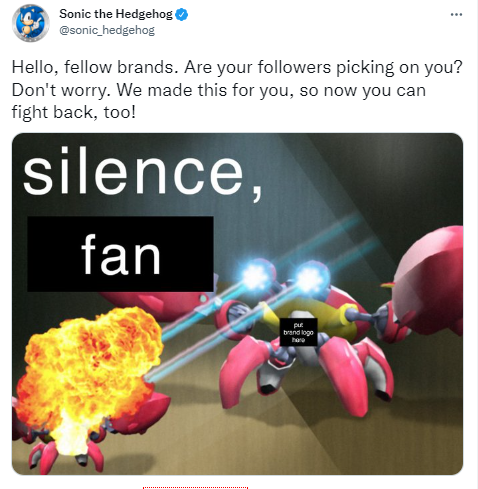 The first Sonic video game, released in 1991, became one of the best-selling video games of all time and helped popularize the side-scrolling genre of platform games.
The company has been using silence as a brand marketing strategy to make Sonic the Hedgehog more appealing to its audience.
5. BurgerKing
BurgerKing is a fast food chain that specializes in hamburgers. The company has been around for more than 60 years and is one of the world's most successful fast food chains.

How to Use Silence Brand Meme to Increase Product Marketing?
One of the most effective methods to increase product marketing is through memes. Memes are a form of social media content that is often shareable and can be very viral. When used correctly, memes can serve as a powerful marketing tools that can help promote your product or brand.
Reports also claim that a meme is a powerful digital marketing tool for products in every industry.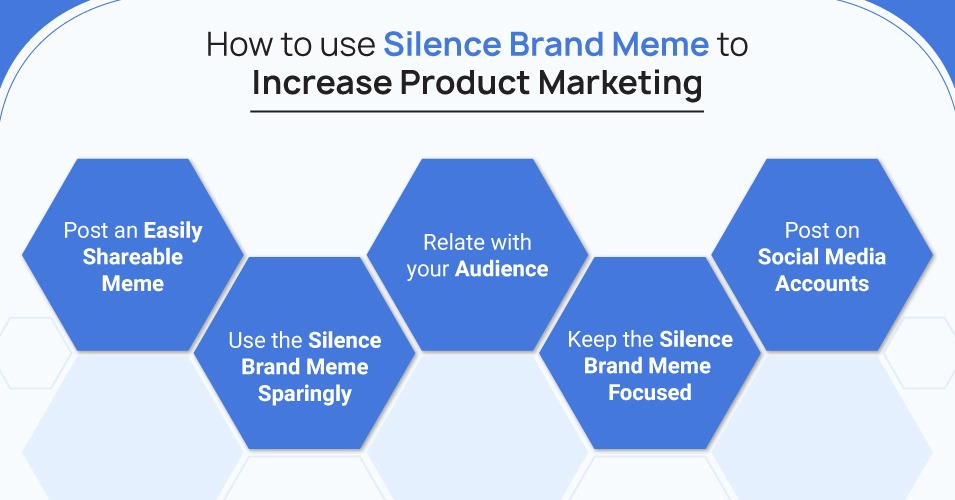 So, if you're thinking about using silence brand memes to market your product, here are a few things to consider. 
1. Post on Social Media Accounts
Social media provides businesses with direct access to their target customers. 
The most effective way to engage your audience is to create memes and post them on social media platforms. Silence brand memes are relatable, shareable, and often humorous – making them perfect for grabbing attention and spreading your message.
When someone shares your meme, they essentially share your brand with their entire network. Your brand can be promoted as a fun and unique by reaching a larger audience.
For a wider audience and to promote your brand, consider posting "silence brand" memes on your social media pages. Who knows, you might go popular!
2. Relate with your Audience
To be a successful advertiser on social media, you must know how to appeal to your target audience. Silence, brand memes are a great way to accomplish that.
Memes are particularly popular with younger audiences, making them an ideal marketing tool for reaching target audiences. Your meme must be relevant to your brand and audience to be effective. 
A less interesting meme is less likely to be shared by the target audience, making it a less effective marketing tool.
3. Post an Easily Shareable Meme
Memes are one of the most shareable forms of content on the internet. Make sure your content is high-quality and aligns with your brand voice.
Memes have become the new norm regarding online marketing and advertising, and they are the perfect way to communicate your message in an interactive and shareable way.
4. Use the Silence Brand Meme Sparingly
Silence brand memes are a popular form of viral content, but too much can be overkill. Brands should use memes sparingly to increase product marketing.
Memes easily get people to pay attention to your brand and are a marketing tool when used correctly. Brands should use memes sparingly so that they don't become irrelevant or overdone in the eyes of consumers.
5. Keep the Silence Brand Meme Focused. 
Once you've selected a silence brand particular meme, focus on your product. Don't try to shoehorn in a bunch of other messages, or you'll dilute the impact of the meme.
All kinds of memes can be shared, whether funny memes or relatable. However, you must ensure your memes are focused on your product if you want them to succeed. 
It means creating memes that highlight the features and benefits of the product and that show how the product can solve the customer's problems.
So if you want to promote your product on social media, make sure you're creating memes focused on the product. 
5 Reasons to Use Silence Brand in your Marketing
Here are 5 of the major reasons why you need to use silence brands in your marketing. 
1. Memes Are Inexpensive Content
A meme can essentially accomplish more when done properly. Investing in professional graphics and boosting social media posts is effective, as it takes much more time, money, and effort to succeed. 
On the other hand, memes can be easily created without investing time or money and are more likely to spread widely.
2. Your Audience will feel connected with You
Memes are relatable and funny, and they're a great way to connect with your Audience on a deeper level. With memes, you show your audience that you understand them and are just like them. You're more likely to do business with your Audience when they feel connected to you.
3. Memes foster a sense of connection
Memes are entertaining, which helps build relationships with your followers. It fosters a sense of belonging because the situation is relatable to everyone you're referring to.
By making your audience laugh, you'll attract followers and help them relate to your brand. Brand recognition improves when your memes include humorous images or catchy tunes.
4. Meme-Based Content Encourages Sharing
The purpose of memes is to share content and to reach a wider audience, the content is often reposted and re-named. It is a great way for people to express loyalty to your brand when they share the meme with their friends.
5. Memes Support Brand Relevancy
Memes make your company more authentic, trendy, and human because they are often related to current events and trends. 
Using memes, you can relate to contemporary events that your viewers are familiar with, which creates a feeling of authenticity. Your brand appears more relatable when your content creates a sense of community.
Final Words
A brand is nothing without a great meme marketing strategy. As we have seen, Silence Brand has been able to spread awareness of its product through memes successfully.
By creating relatable and funny content, you will be able to connect with your target audience, boost your sales, and get them interested in your product. 
Ultimately, a well-thought-out meme marketing strategy will help you create a successful brand.
FAQs
How effective are memes as marketing tools?
Memes are great marketing tools. They help you connect with your Audience because they revolve around fun.
What is the best social media marketing platform for memes?
Pinterest, Tumblr, Twitter, Instagram, Facebook and more. With many meme posts available, social media have many options.
Why should brands use memes?
Using memes is the best way for brands to stay in touch with current affairs, boost brand recognition, and reach out to their target audience.