What Is Remote Work Conflict? 8 Ways to Avoid It
What Is Remote Work Conflict? 8 Ways to Avoid It
Conflict is not just limited to face-to-face interactions; it can also arise even when working from home. Conflicts are difficult to resolve when you cannot speak face to face.
Remote work conflict has now become a common occurrence. Face-to-face contact can often resolve most conflicts, but it is often difficult without it.
Body language and communication style play an important role during conflict resolution. We cannot see or hear each other's facial expressions or tone of voice when communicating via email and text.
Therefore, remote work conflicts are the result of misunderstandings and miscommunications. You have to use different communication strategies to manage remote work conflict, prevent it, or resolve it.
What is Remote Work Conflict?
Remote work conflict is a rift between team members working together, caused by actual opposition of values, interests, and needs.
It is never easy to resolve a conflict. Conflicts in a remote work environment are even more challenging. Disputes can arise in the workplace for many reasons.
The same reasons that lead to conflict in traditional office environments also lead to disagreements in remote work settings.
Conflicts can arise over personality clashes, tasks, stress, behaviors, management styles, overworking, and more.
Remote Work Conflict negatively impacts organizational performance, motivation, employee productivity, and the overall work environment.
How to Avoid Remote Work Conflict
Conflicts between colleagues can be difficult to resolve if you can't speak with them face to face. You cannot eliminate remote work conflicts.
Here are some tips for reducing and minimizing remote work conflict.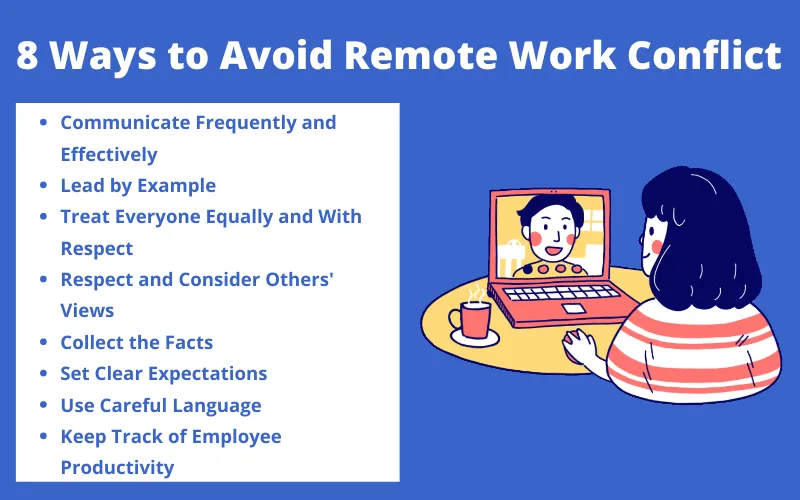 Communicate Frequently and Effectively
Conflicts in the workplace are often caused by poor communication. The key to preventing remote work conflict is effective and frequent communication.
Keep everyone in the loop. When team members are on the same page, they work more efficiently, and there are fewer chances of a conflict.
Employers should frequently communicate with remote employees and be available to them. Maintain frequent, regular contact with all your employees.
It is important to have too much communication to avoid conflict. You need to ensure anyone can reach out to you easily as well. Having too much communication is better than too little when working remotely.
Employers should communicate with employees regularly or at least multiple times a week to know what to do, what they are doing well, and what is expected of them. If you need to have a complex conversation, consider video conferencing.
Lead by Example
Manage a remote team by setting a good example. Your actions speak louder than your words, no matter your leadership style.
As leaders, your behavior impacts how you influence the people around you. You should be mindful of the words you use with your employees and try to resolve disagreements peacefully.
When you take rash action, you encourage your employees to behave similarly, negatively affecting the workplace.
Treat Everyone Equally and With Respect
Treat your team members courteously whenever you are interacting with them. Make sure you don't prejudge employees based on their ranking or academic performance or race, gender, or sexual orientation. You must treat everyone with respect.
When everyone is treated equally at the workplace, they can collaborate, solve problems, feel safe and respected. Everyone deserves respect, dignity, and kindness, no matter their circumstances.
Working remotely means having an impersonal communication style. To prevent conflict, stay open while communicating with others. Do not let others think you are deceiving them.
Treating employees with respect and dignity in the workplace is necessary to prevent remote work conflicts and company growth. Unfair treatment decreases an employee's morale and may arise some conflict too.
Respect and Consider Others' Views
To find mutually beneficial solutions, you need to consider matters and situations from your own and others' perspectives.
Even if you don't always agree with an employee's views, remember that your employees may have a unique perspective based on their experience, cultural background, or communication style.
Listen to opposing views, even if they are outrageous. If you truly hear the other person, you can have a conversation, and your relationship will grow.
Consider their cultural aspects and don't disregard their ideas or values. Remember that your primary goal in interacting with your employee was accomplishing a common objective. Be aware of this, and find ways to work together to achieve the goal.
Collect the Facts
You should first speak to each member involved in the conflict through video calls or phone calls and listen to their story before conducting a group meeting to discuss a conflict.
Then, when it comes time to have a group meeting to discuss it, you will better understand the situation, get evidence from others, and decide what can be discussed and what needs to be addressed.
Set Clear Expectations
By setting expectations, you can prevent or reduce employees' confusion and increase their chances of achieving their goals.
You need to set clear expectations and keep track of all the processes, procedures, and outcomes to meet your expectations.
Use Careful Language
Whatever communication method you choose, it is important to be extra careful when collaborating remotely. When communicating by phone or video call, use proper tone and language, and provide more context when sending texts.
To avoid miscommunication and convey a message clearly, make sure you use familiar and accurate words. When sending emails, make sure you are empathic and double-check them before sending.
Keep Track of Employee Productivity
You can avoid any confusion regarding job responsibilities and performance if you know everything about each employee.
It is extremely important to measure and manage employee performance to identify hardworkingly and not.
Use apps or tools like timeTracko to track employee productivity. This will help you determine worker efficiency.
Provide the employees with whiteboards where they can access information about productivity.
Conclusion
Miscommunication occurs at work every day. Conflict management is a vital part of any professional environment but is especially important when working remotely, as miscommunications are more likely to occur without in-person communication.
By following the tips mentioned above, you can prevent remote work conflicts. Depending on the conflict's nature and the parties involved, you need to resolve each conflict differently.
Hold a video conference or a phone call to bring the conflict to a head and prevent it from becoming a major issue.
For more interesting blogs, subscribe to the timeTracko blog.