Save More Time and Money Working Remotely
Save More Time and Money Working Remotely
As the pandemic unfolded in 2020, more businesses migrated to remote working. According to a recent Gartner poll of 317 CFOs, 74% of businesses permanently moved to remote working after COVID-19. Microsoft and Amazon have extended their work-from-home policies until the end of the pandemic.
Is it true that working remotely saves money and time? Working in an office atmosphere has its attractions, but do they outweigh the possibility of time and financial savings? Working remotely has a lot of conveniences and advantages.
But perhaps the most significant benefit is the long-term cost savings compared to working in an office or other place outside the home. So, here are some of the ways to save more time and money working remotely; let's see:
Best Ways to Save More Time and Money Working Remotely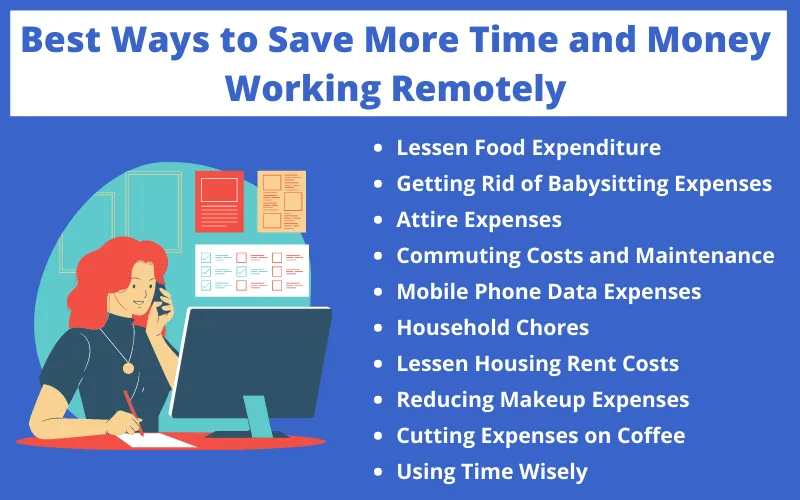 Lessen Food Expenditure
It is vital to go out for lunch when working in an office, which might add up to daily expenditures. While returning from work, purchasing a snack on the way home is also common, adding to the expenditures.
However, working from home allows you to eat healthier and at a lower cost than eating out, cooking meals, and minimizing the number of times we order in, which can help us save money. Working from home allows you to spend less money at restaurants and cafes.
Getting Rid of Babysitting Expenses
When parents have a small family and both parents work, it isn't easy to care for their children. Parents with kids will need to hire a babysitter since it will be difficult to care for them while working.
However, working from home helps reduce childcare costs and allows you to spend more time with your children and enjoy family time. You may save money by not hiring a nanny or using a childcare facility.
Attire Expenses
Even if your workplace has a dress code, wear the same outfit every day. Whatever it is, your dress will become dirty, and you will need to clean it.
Since not everything can be cleaned at home, it would be helpful to include dry cleaning expenses.
When you work from home, you must still buy and wash your clothes; however, you may wear your casual shirts and trousers, which are typically sufficient.
Also, you don't need to dry clean these types of clothes; simply washing them is usually sufficient.
Commuting Costs and Maintenance
Whether you drive your car or take public transportation, the expense of getting to and from the office will eventually pile up.
Maintenance takes more than filling the gas tank to own a car or a bike. Maintenance, oil changes, and all the other routine (and unexpected) maintenance duties that come with owning a vehicle are all necessary.
Gas saving – The expense of vehicle upkeep isn't the only benefit of driving less. Additionally, working at home saves your money on gas.
Parking – Parking may be a significant expense for individuals who work in big urban areas. Most workplaces don't give free parking, so you'll have to pay monthly or yearly parking costs, but you won't have to worry about these issues if you are working remotely.
Public transportation – Although public transportation is typically less expensive than driving a car or riding a bike, it is still expensive.
However, working remotely is considerably less expensive than all other modes of transportation, allowing you to save money on maintenance and public transit.
Mobile Phone Data Expenses
Normally, we all use Wifi, but we don't have access to it when commuting. When most individuals become bored while computing and social media, these data expenses pile up.
While surfing, we don't pay attention to how much time we spend on the internet, which adds to our costs, but working remotely minimizes this expense.
Household Chores
You can do your household work while working from home rather than paying someone else to do it for you. For instance, rather than paying someone else to do your chores, you may do it yourself.
You can finish your household duties without rushing to go to work on time. Also, you may accomplish household tasks like washing and stocking your pantry, which you have been putting off for weeks.
Lessen Housing Rent Costs
Working from home has given us the flexibility and comfort to work from anywhere we choose. Most of us move to a new city for work, leaving our homes behind.
Moving to a new city necessitates renting a room or staying in a hostel, both of which add to our costs.
However, working remotely eliminates the need to relocate to a new location or rent a room, allowing us to save money.
Reducing Makeup Expenses
According to numerous news stories, women who work from home have begun to wear considerably less makeup. They put on makeup to seem smart and confident while working.
On the other hand, working remotely has reduced the usage of cosmetics because it is not necessary to wear makeup when not in the workplace.
In Zoom meetings, the majority of the ladies do not wear makeup. Cosmetics are generally expensive, although they have lately gotten much less so.
Cutting Expenses on Coffee
Coffee is trendy, and going to a cafe to drink coffee is fashionable. We have no idea what it is, but it costs us a lot of money.
While getting out of the office and going to a café with your coworkers is ok on occasion, doing so frequently will build up your costs daily.
If you work from home, now is the time to break that behavior. Even brewing your coffee at home might help you save money.
Using Time Wisely
Getting the most out of your time allows you to save money (i.e., we can say "Time is Money").
Working remotely helps you save money because it saves your time – time spent waiting for the elevator at work, time spent searching for parking so you can take the subway, time spent buying work clothing, time spent traveling on public transportation, and time spent stuck in traffic.
Working remotely by staying at home has the advantage of giving you more time in your day to pursue hobbies you like.
You will also have more time to focus on getting active, eating well, reading with your children, spending quality time with your family, and enjoying your time.
Perks of Working Remotely
Working remotely by staying at home is a huge comfort, providing various real-world advantages. Let's have a look at the advantages: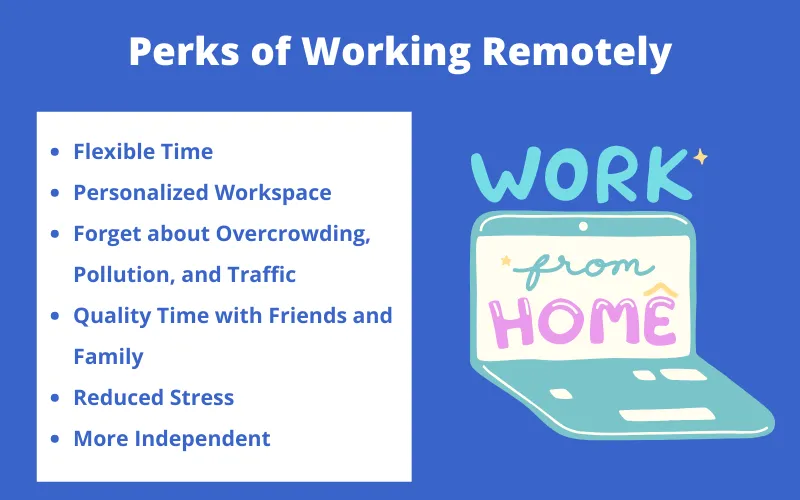 Flexible Time
You can take breaks whenever you want and have lunch whenever you want. The concept of working remotely has aided people in achieving a better work-life balance.
Personalized Workspace
You may set up your home office anywhere and in any way you choose when you work from home. You may design your workspace based on your requirements.
As a result, you have the freedom to operate in the customized environment that you have designed.
Forget about Overcrowding, Pollution, and Traffic
No pushing into creaky public transportation, having others scratch your nice shoes. Sometimes rushing to get to work after skipping breakfast, it's easy to lose track of time.
Quality Time with Friends and Family
You are taking care of a sick family member at home, squeezing in some extra snuggles with your dog, or simply relaxing! Spending quality time with your family can also help to strengthen your bond.
Reduced Stress
Working from home reduces stress as well. You have considerable independence; you may take a break or a power nap to refresh your thoughts.
You don't have to worry about commuting to work in the morning.
You don't have to deal with the high levels of stress that come with personality disputes or office politics.
More Independent
You'll begin to focus on self-motivation, self-discipline, attention, and concentration due to working remotely. You'll be more self-sufficient in terms of work, and your skills will improve, and also you will be more independent and confident.
Conclusion
To summarize, employees have been able to work from home due to the pandemic. It has given employers first-hand knowledge of operating remotely by staying far from the workplace while saving time and money.
However, entering a work-from-home condition on the spur of the moment is challenging but not impossible. In the long run, this experience is usually incredibly helpful.
Being focused on your goals will pay off even as a remote worker.