Best Time Tracking Software for Small Business
Best Time Tracking Software for Small Business
There are limited resources and workforce in small businesses, due to which handling every project by a single person is quite a hassle.
Whether you are working on a small business and looking at clock hours or a manager wanting to manage your remote team, you need time-tracking apps that keep your business running smoothly and delivering output to clients on time.
Managing time is essential for every business, from small to large enterprises. The productivity of your employees depends upon how much time they spend on a particular task.
So, tracking the time is essential to know employees' productive and unproductive hours and generate an organization's overall progress.
It is a fact that tracking time generates more accurate invoices that help your clients create trust and benefit your business.
The business decision can be made brighter when you know the precise time required for completing a project.
Most of the world's companies use time tracking apps and hire remote employees to boost productivity and get their work done on a fixed budget.
Integrity and cost are essential in making business decisions in small and medium-sized businesses.
Therefore, tracking the time is necessary to handle the project within a specific budget for achieving an organizational goal.
We have prepared the list of the top 10 best time tracking software for small businesses:
Time Tracking Software for Small Business
timeTracko
Toggl
Monitask
Tsheet
Harvest
Hubstaff
Timesheet.com
RescueTime
Connecteam
DeskTime
timeTracko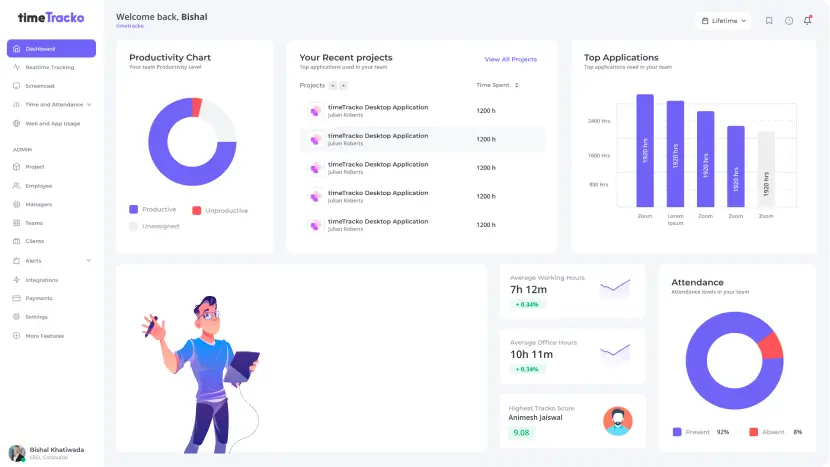 timeTracko is an automatic time tracking tool for all types of businesses. It is an all-in-one employee monitoring and productivity tracking tool for distributed teams.
It is simple to use and affordable employee monitoring and project management software for every organization and freelancer to enhance productivity.
Once you download the application, you can sign up for timeTracko with your work email and invite your team from the dashboard.
While you start to work, you need to clock in, and after finishing the work, you can clock out just with a single click.
It provides options to take a break and offers a private time when you have some urgent work and don't want to get it tracked.
A Pomodoro timer reminds you to take a break when you work for a long time without a break.
timeTracko works even offline mode and takes an optional screenshot of the employees' PC screen in some interval and tracks the URLs used to know whether they are working for a project or something else.
Available for: Browser extension, Android, Windows, iOS, Linux, Mac
Features of timeTracko
Tracks time to know the productive and unproductive hours of employees.
Employee monitoring and evaluating their performance with the help of intelligent reporting.
Pomodoro timer that reminds you to take a break in a specific time interval.
Sends idle time alert when employees are away from the PC for a specific time.
Offline tracking the time, apps, and screen within real-time.
Provides optional screenshots to let you know what your employees are doing on their PC during work hours.
Pricing of timeTracko
timeTracko is completely free. It offers:
Free plan with all premium features for unlimited users and no timeliness.
No credit cards required.
Benefits of timeTracko
Using timeTracko, you can quickly evaluate what productive and unproductive apps and websites your employees use during office hours.
It helps to boost your team's productivity by providing real-time tracking.
An attendance management system is available for recording employee's attendance.
It helps in tracking the project with real-time reports.
Harvest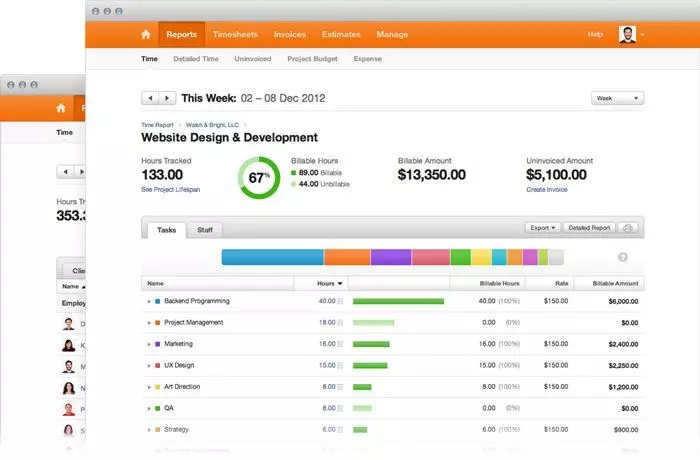 Harvest is another simple and popular online time tracking software to track the project's time and expenses for small and medium businesses.
It can generate professional invoices and send them to the client to increase trust.
It is easier to start and stop the clock with the browser extension when you start working. It can review and approve the timesheet of your team.
Harvest integrates with many apps such as Slack, Trello, Asana, etc., while providing simple time tracking, timesheets, and reporting.
It is free to use for up to two projects, and a paid version is available for teams with bigger plans.
It has made affordable to all those who crave its features by providing a subscription plan that starts from $12 per person per month.
Available for: Browser extension, Android, Windows, iPhone, Mac.
Features of Harvest
Keep track of your teams' time and expenses invested in a specific project.
Keep your project on track to ensure that the employees are productive.
Turn the billable time and expenses into professional invoices and send them to the clients.
Works offline to track the progress.
It has excellent integrations over third-party apps like Slack, Asana, Github, Gitlab, Gmail, etc.
Review and approve timesheets from your team.
Pricing of Harvest
Harvest is free to use for one person with two projects.
The pro plan of harvest costs $12 per person per month that allows unlimited users and projects.
Benefits
The mobile app makes work more convenient.
It generates professional-looking invoices.
Drawbacks
Lack of sales tax integration.
Real-time phone support is not available.
Toggl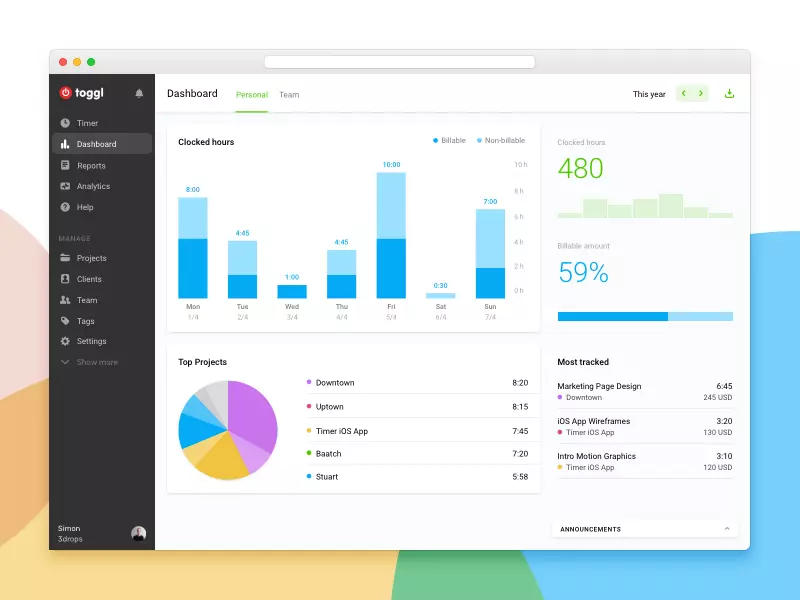 Toggl is a time tracking and employee monitoring tool for freelancers and small businesses.
It is a simple and user-friendly manual time tracking and employee monitoring tool. If you want to track time across multiple projects only, quickly, and for free, toggl is the best option.
You can quickly set up new projects and work on them using this app. It can break down the task into subtasks and distribute it to teammates to complete the project within time and deliver it to clients.
Toggl is applicable for small businesses with limited projects and small teams. It is very affordable, and small groups of up to five members can use it for free.
Toggl can integrate hundreds of online apps via Zapier.
Available for: Browser extension, Linux, Android, Windows, iPhone, iPad, Mac, Chrome.
Features of Toggl
It provides features like idle time detection and tracking remainder.
Robust reports can be exported.
Chrome extension is available that reminds you to start the timer when you are online.
It provides countless integrations over different tools to record your time from any device accurately.
The users can also view the task in a dashboard and know their progress.
Pricing of Toggl
Toggl can be used for free upto five users, including freelancers and small teams.
The starter plan costs $9 per user per month. It is built for small teams to work fast.
The premium plan costs $18 per user per month. It is designed with different tools to facilitate across multiple teams.
Large and complex organizations can use enterprise packages with custom pricing.
Benefits
Available on all major platforms.
Simple to use for small businesses.
Drawbacks
An expensive subscription is required for all the features your team craves.
Minimal reporting option.
Monitask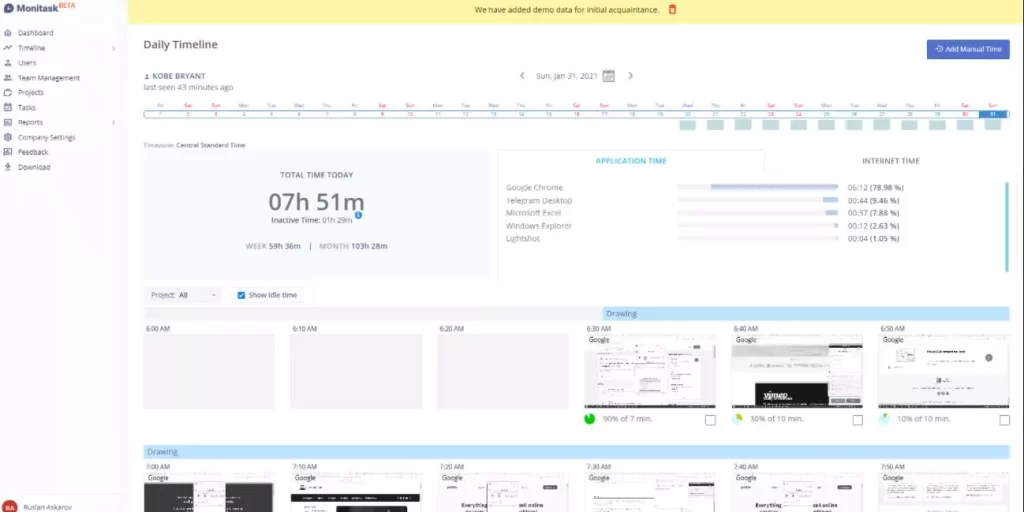 Monitask is a time tracking and project management tool for small businesses and remote workers.
It provides the record of a mouse click, scrolling, keystrokes, and details of the apps you are using by taking a random screenshot when you clock into the app.
Monitask is mainly designed for companies, teams, and remote workers to track progress and measure productivity.
The supervisor can control the view of the dashboard and see the employees' progress in real-time. It provides idle time alerts and notifications every six minutes to avoid distraction.
When employees clock in the app, it starts reporting the activities such as user activity, computer monitoring, applications used, etc.
Companies with remote employees can use this software to evaluate attendance and know how much time employees stay away from computers.
Available for: Android, Windows, iPhone, iPad, Mac, iOS.
Features of Monitask
It is an essential time tracker and timesheet app for tracking work hours across a project.
It keeps the record of keystrokes, mouse clicks, and scrolling activities.
Offline time tracking features.
Automatic captures screen in a random interval.
Idle time alert every six minutes to keep you focused on work.
The supervisor can see which employee is active and what they are working on with a live dashboard.
It denied to fill out and manage the timesheet manually.
Pricing of Monitask
It is free for up to one user with limited features.
The pricing starts from $4.99 per user per month with a professional version. It offers a free trial for ten days.
It has also hosted a version that does not display pricing, and for the price, you need to contact the vendor.
Benefits
It assists you in staying in touch with the remote team and knowing their progress.
It works even with a poor internet connection or offline.
Drawbacks
Do not provide access to the client for reviewing the project.
No mobile apps are available for monitoring.
Tsheet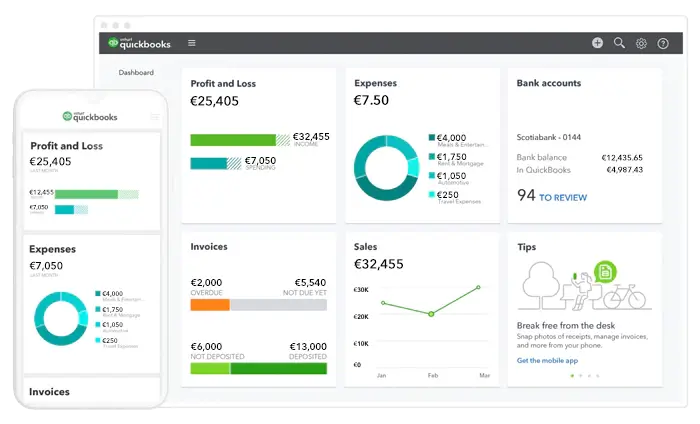 TSheet is an automatic time tracking software for small businesses. Once you install the tool, it allows users to access it through web browsers and mobile apps.
Thousands of companies use the Tsheet app to manage payroll, invoice, and schedule employees' time.
You can save money and time for calculating payroll and invoices by tracking every second of work using this app. It also tracks employees' billable and non-billable hours.
It has essential features such as GPS tracking to know whether the employees are on the worksite or not, project scheduling, and providing notification alerts.
Available for: Android, Windows, iPhone, Mac, iOS, Web.
Features of Tsheet
Sends alerts to employees when they work overtime.
Easily track time and has attendance management to record employees' attendance.
Sync employees and vendors who are subcontractors with Quickbooks online.
GPS tracking to know either the employees are actually on the job site or not when they are on the clock.
It enables tracking billable and non-billable hours of employees.
Pricing of Tsheet
The premium package costs $8 per user per month, including a $20 base fee per month. It offers a free trial for 14 days.
The Elite package costs $10 per user per month, including a $40 base fee per month. You can use it free for 14 days to complete the trial.
Benefits
Tsheet is super and easy to learn.
Good customer support.
It takes just a few seconds to set up a new user.
Drawbacks
It does not integrate with more apps.
Charges monthly base fee.
Hubstaff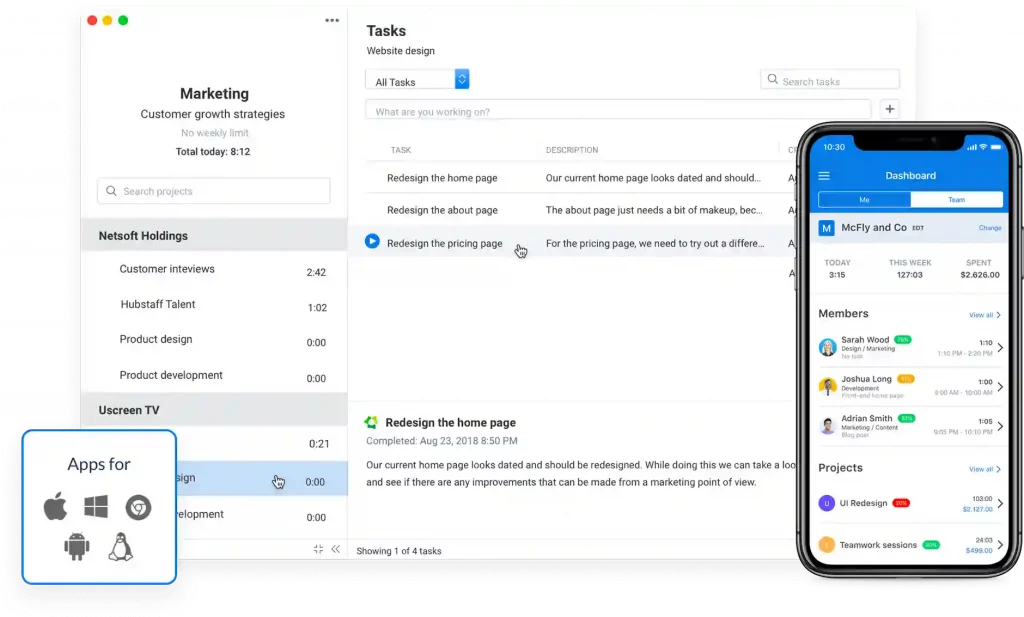 Hubstaff is a time tracking and project management software used to manage and track employees' productivity.
It allows you to track your employees' location through GPS tracking, monitoring computer activities user activities, and providing the project's detailed report. It provides timesheets that are exported easily to the clients.
You can download this app for Windows or MacBook; once you clock into the app, everything happening on your computer will be tracked.
It keeps tracking the applications and URLs by taking screenshots within some interval to know your employees' work. You can add budget limits and get automatic alerts for other projects here.
Hubstaff integrates many project management solutions like Asana, Github, ClickUp, Jira, Trello, etc.
Available for: Web, Linux, Android, Windows, IOS, Mac.
Features of Hubstaff
Export time to Quickbooks automatically.
Track the apps that your team uses in real-time.
Takes random screenshots and measures employee productivity.
It provides detailed reporting on tasks completed.
Tracks employees' location by using GPS tracking.
It has easy online scheduling and attendance tracking.
Integration with Paypal and Payoneer.
Pricing of Hubstaff
It is free for a single user.
The basic package costs $7 per user per month.
The premium package costs $10 per user per month.
The enterprise package costs $20 per user per month. It is for large businesses that are seeking more features.
Benefits
A user-friendly app.
Manage staff and payroll effectively.
Drawbacks
Limited integrations.
It is not more customizable.
Timesheet.com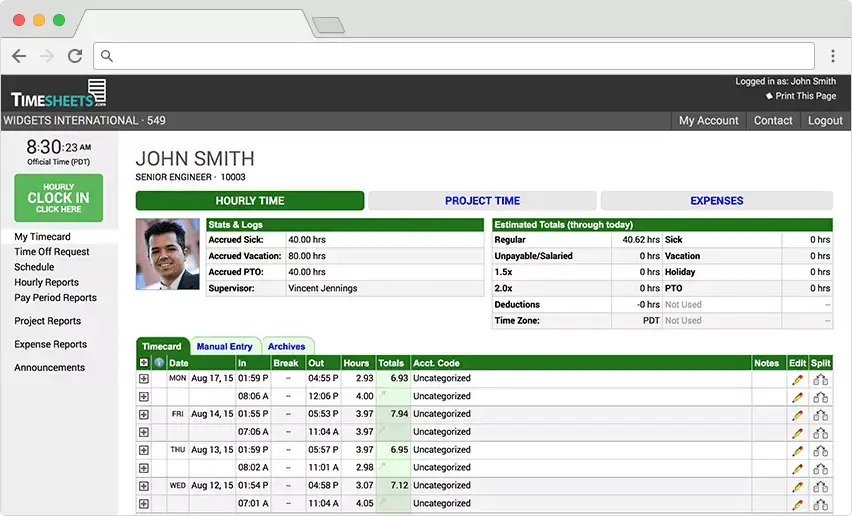 Timesheet.com is timesheet software for managing employees' schedules and tracking time for small businesses.
It is significant for those companies who need to follow billable hours and time spent on the project by employees to track their time, mileage, and expenses.
It keeps all your employee's documents in one private place with HR Suite. So, there is the ability to maintain security by storing the data privately so that only managers can see them.
The robust reporting feature of timesheet.com provides the detail of the information that you need at any time. It mainly tracks time for payroll, billing, and job costing.
If an employee works overtime, it will calculate the working hours and record them.
It runs effectively on mobile to track location using GPS tracking and handle time and expenses within real-time by saving data or battery life.
Available for: Web, Android, Windows, IOS, Mac.
Features of Timesheet.com
Tracks employee's time, mileage, and expenses.
It enables time for payroll, billing, and job costing.
Provide real-time information and report of the employees.
Track employee's attendance on mobile.
GPS tracking to know either employee is there at the worksite or not.
A robust reporting feature provides the information that you need.
Pricing of Timesheet.com
It is free for freelancers or a single user.
For subscription, the standard plan costs $4.50 per user.
The non-profit plan costs $3.60 per user. Furthermore, the price is based on the number of users.
There are no setup fees, no base fees, no cancellation fees, and no long-term contract fees.
Benefits
Regularly updates its software.
Save time and cost for billing.
Drawbacks
Possibility of human error.
Less flexibility for employees.
RescueTime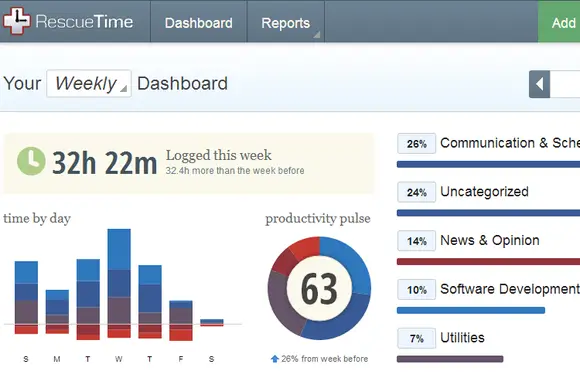 RescueTime is a time tracking software used to track the employee's working hours manually and automatically.
It has popular features that help you stay focused, motivated, and productive while working.
Once you install the tool, you can use it on any platform, and it runs in the background to monitor your computer usage activities.
It gives you excellent power to focus on the work by blocking all the distracting apps and websites while working. Hence, it is known as one of the best productivity tools to track time.
For example, it classifies 'Facebook' as a very distracting site, and entertainment sites are less productive to use while working.
So it recognizes the productive and distracting sites, classifies them as useful or useless based on the employee's task, and blocks the access of distracting websites.
It has powerful features of tracking the activities of the computer, active windows, running tabs, websites visited, and programs so that you can measure the productivity of employees.
It offers integrations over Slack, Facebook, Evernote, Google Calendar, and many more popular tools.
Available for: Web, Linux, Android, Windows, IOS, Mac.
Features of RescueTime
Block the distracting websites to keep your full attention at work.
The users can pause or quit at any time to take a break.
It monitors the time spent by employees on meetings and phone calls.
Robust time management tools and training for a distributed team.
Tracks computer activities, websites visited, active windows, and programs that run on a computer.
Pricing of RescueTime
It is used for free without any subscription for small businesses.
The premium package starts from $9 per month. If you pay annually, it costs $72 per year with four months free.
Benefits
It doesn't require data entry to track the time.
Blocks all the distracting apps while working.
Drawbacks
Difficult to customize.
It takes too many computing resources.
Connecteam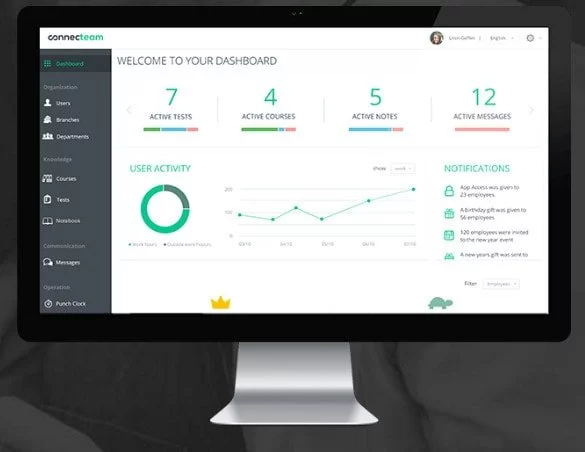 Connecteam is the time tracking app for small businesses and remote or non-desk employees. It is an all-in-one employee app to manage your employees or team from one place.
With the app, you can share your work schedule, engage in work, communicate with team members, hire new employees, organize tasks, boost professional skills, and share documents.
This app's most exciting feature is a work-oriented chat that makes internal communication fun and straightforward with files, GIFs, image sharing, audio notes, etc.
Once the app is installed, employees can clock in and out with a GPS stamp, view their current and past timesheets, and get an automatic notification.
Connecteam integrates with popular apps such as Google Calendar, Gmail, LinkedIn, Slack, Microsoft 365, etc.
Available for: Web-based, Android, iOS.
Features of Connecteam
Exports timesheet for employee payroll.
The dashboard is user-friendly and easy to use without any trainer.
It captures employee feedback for effective management.
It provides real-time employee communication and collaboration through checklists, messaging, training, and a one-on-one chat feature.
Tracks the time of your team members.
Pricing of Connecteam
Connecteam pricing is available in different plan:
It is available free for freelancers and small businesses.
The basic plan costs$35 per month.
The advanced plan costs $72 per month.
The expert plan costs $149 per month.
For an enterprise plan, you need to contact the vendor.
Benefits
Customer service is friendly.
Easy to integrate with the business.
Drawbacks
The free plan does not have more features.
DeskTime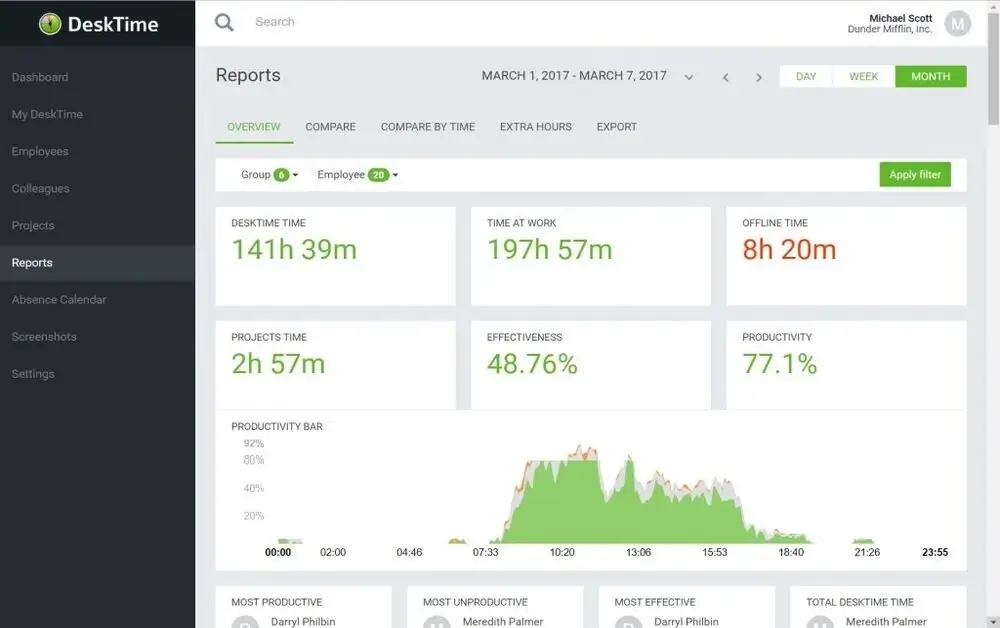 DeskTime is an automatic time tracking app that works on your desktop and mobile apps. Besides time tracking, it monitors employees' time on their computers to ensure their productivity during office hours and report on them.
You can see the website, programs, tabs, and applications that your employees use and categorize them into productive and unproductive hours for completing their tasks.
It also collects the data for staying idle or away from the computer during work time.
It ensures how much time is required to complete a project, estimate the time needed for a similar project, and bill your clients accurately to complete the project.
There is a significant feature to make sure your employees work hard and remember to take a break to avoid work burnouts and refreshing minds by providing a reminder to pause every hour.
Security encryption, firewall, login, and password protection protect personal information and make your industry's data secure.
Available for: Linux, Browser extension, Android, Windows, iOS, Mac.
Features of Desktime
Automatic time tracking and monitoring the employee's productive and unproductive hours.
URLs and apps are tracking through screenshots.
Record the title of documents or files and time spent on each of them.
Collect accurate data about the time spent away from the computer.
Time tracking of individual projects and tasks.
Know how much each project costs to the company and charge clients accordingly.
It allows offline time tracking and evaluating keyboard and mouse activities.
Pricing of Desktime
Desktime Lite is free to use for a single user.
The pro plan costs $95 per month ( $5.94 per user).
The premium plan costs $124 per month( $7.75 per user).
The enterprise plan costs $190 per month( $11.88 per user).
Benefits
It allows users to gain better visibility.
Flexible and compatible with all devices, including desktop and mobile.
Drawbacks
Often leads to micromanagement and loss of privacy.
It is pretty expensive.
Conclusion
In conclusion, different apps for employee monitoring and time tracking are used in small businesses with accessible or affordable costs.
We have provided you numerous time tracking software with detailed information above. Now it's your time to choose any software from above according to the size of your company's team members, project, and budget.
You can download any app on any platform and get started for free. Please let us know in the comment section below if you have any queries.