Best Tips for Supporting Remote Teams
Best Tips for Supporting Remote Teams
To increase your remote team's effectiveness and productivity, you need to provide long-term support by making regular connections with all your team members as they are geographically dispersed.
You do not have the same control over remote workers as you do for on-site employees.
Similarly, you cannot give your remote teams the same attention and supervision as those in different places.
Still, you have to find effective ways to support them by creating several strategies.
The benefit of remote work is for both employees and employers to save the cost of an organizational setup, rent, assets, and many more.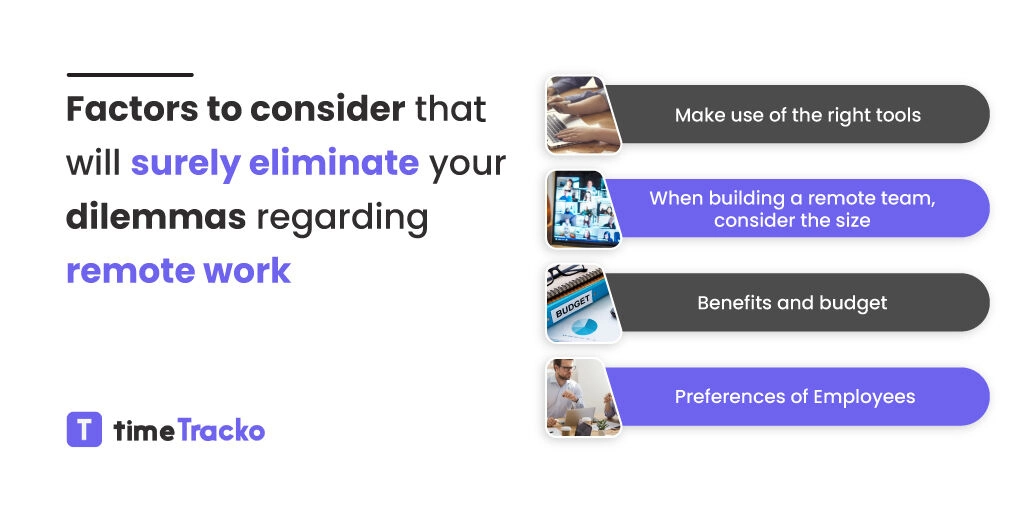 Similarly, employees can have flexible work hours and work from any place they prefer to work from.
They can also save travel expenses, cost of canteen foods, traveling time, and spend time with family members.
Also, it is said that about 80% of remote workers feel less stressed and increase work efficiency and productivity. Hence, we need the best tips for supporting remote teams to increase productivity.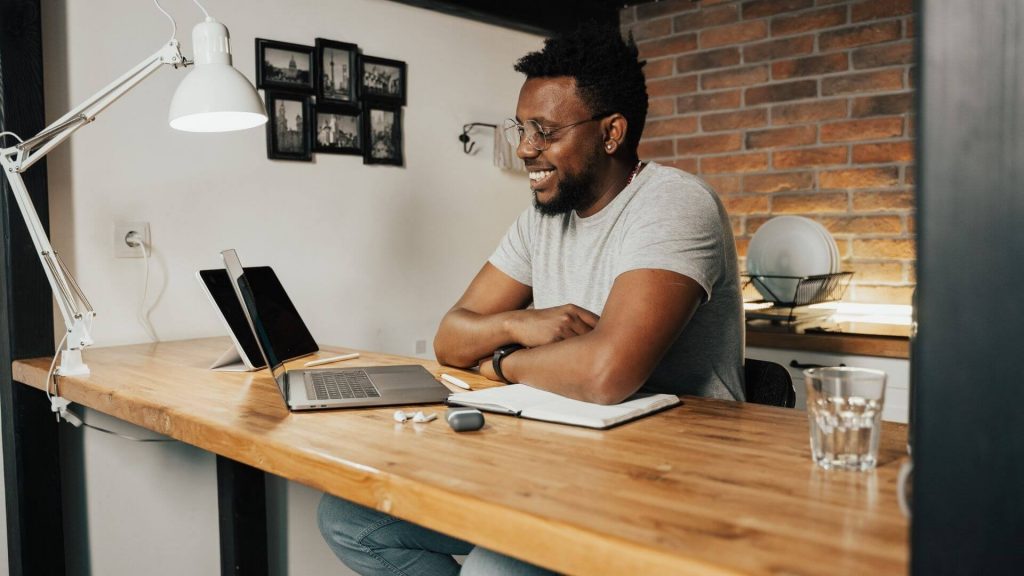 However, some challenges might arise while working remotely, like lack of face-to-face supervision, social isolation, distraction at home, etc.
Here I have mentioned ten tips for supporting remote teams to increase productivity.
Best Tips for Supporting Remote Teams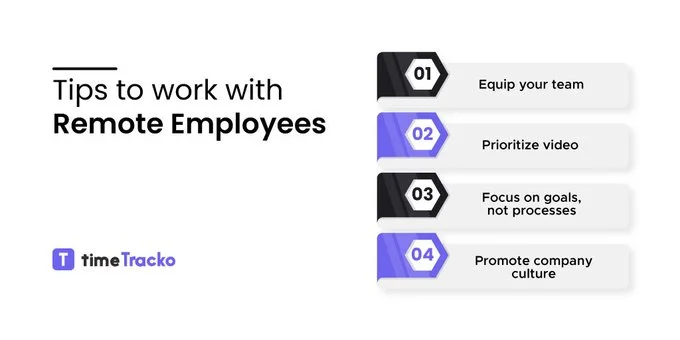 Have a Daily Check-In
While working remotely, as a manager, managing an entire team requires you to trust your team member and let them do their job without direct oversight and management.
You have to encourage every employee for a single daily check-in. Once a day, you need to schedule a phone call or video conference with your entire team members that will help you keep every member on a single page, and they will be able to listen for instructions, ask questions, and clear the confusion.
You have to establish face-to-face interaction with every team member using Zoom or Skype, and the purpose is to set the agenda and provide feedback on their work and ask for the necessary resources they require while working from home.
Instant messaging and chat on slack may not be sufficient as you need to interact with your team members via video conferences.
Vocalize Your Expectation
Working from home is a new challenge for employees who are not used to this trend, and suddenly, they get confused about what is being expected from them.
As a manager, it is essential to make your expectations clear from the beginning of the work not to get your employees wondering about the new working environment.
The company cannot get success when it does not have set any goals or expectations. You can set expectations about work performance, deadlines, productivity, response time, and working hours of your remote employees and then know about your expectations clearly to give maximum effort to meet your expectations.
You need to vocalize your expectations early when you develop a new set of expectations for your team working from home if you want to meet that expectation.
Similarly, employees also have their expectations, and it is essential to manage the expectation of both managers and employees to achieve the goal.
Managers have to listen to the ideas and provide them with all the resources they need while working.
They need to set flexible deadlines, define the project goal, gather ideas from the team, break down the task, and assign it to all the team members to be completed in time.
Establish Flexibility and Trust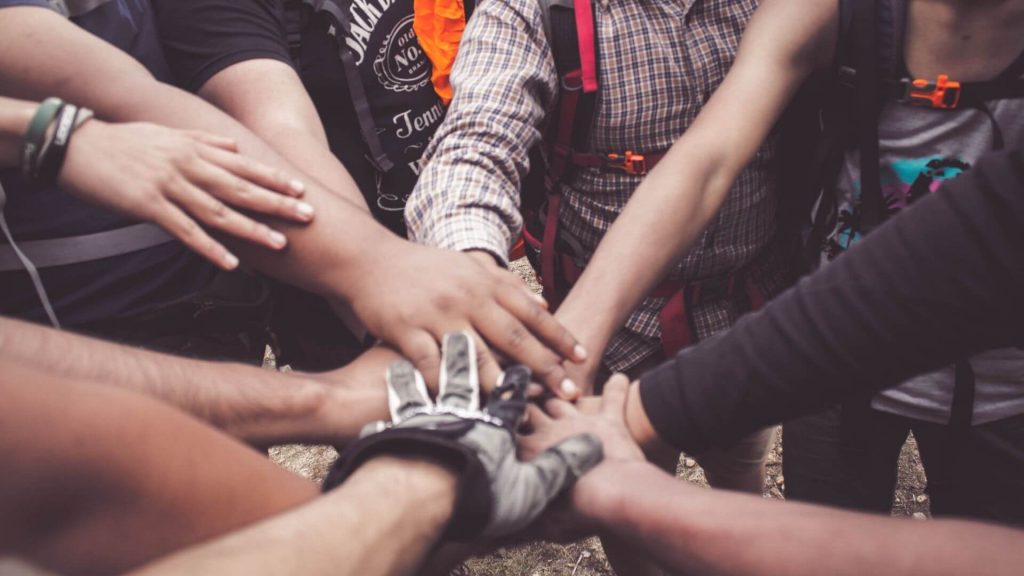 Remote working has flexible work hours that enable employees to work anytime when they want from any place. So most employees prefer working remotely to get preferred working zones to work.
They can work from any place like a bedroom, garden, park, living hall, at any time with just a laptop and internet connection.
When employees work from home, they tend to finish more work than when they work from the office due to flexibility and freedom.
As a manager, you need to provide freedom for employees and develop trust to avoid micromanagement. It is one of the challenges that every remote employee does not have the same working environment and
Employees can give their performance only when they get the freedom to work. Similarly, trust is essential between employee and employer to increase work efficiency.
Connecting with team members by interacting with each other strengthens the relationship among team members, and bonding with each other helps build trust.
Set Deadlines
You need to set a deadline for the task while assigning it and available. You need to set deadlines for a project and clarify the deadline.
The project deadline should be according to work. You can agree with employees and ask them when they can complete the task and set a deadline.
When employees agree to complete the task, you can help them with the required resources and guidelines to finish it before deadlines.
However, employees can set a reminder and make a schedule to complete them before the deadline.
When employees can deliver the task before the deadline, managers will trust you, and you might get promotions or rewards from time to time.
Once the deadline is set for a project, avoid multitasking and focus on a single task so that you will be able to give quality output.
Have Regular Meetings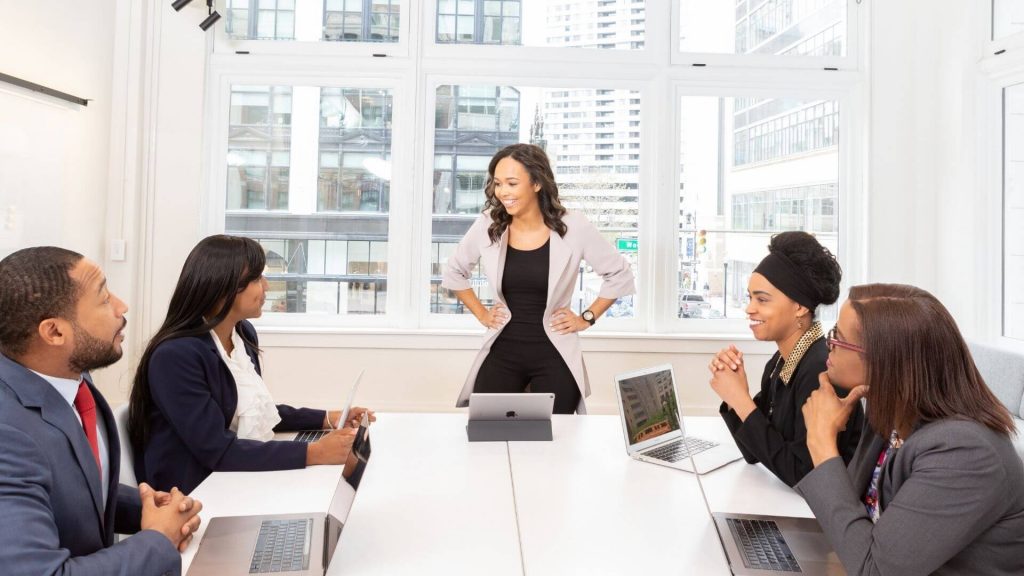 Scheduling a regular meeting based on time zone is one of the requirements for managing remote teams. You have to talk regularly with all the team members via video conferencing or phone.
You have to allocate time for conducting regular meetings to support your remote teams. When you rely on emails, texts, or chats, it cannot be helpful for employers and employees as employers don't know how employees waste their time. Employees cannot perform work without any feedback or guidelines from employers.
Conducting regular meetings with remote teams is vital as you need to provide them guidelines and feedback regarding work daily, which also helps increase communication and interaction.
You can talk to your team members, ask for their input and feedback, and encourage them to focus on work by avoiding stress.
Regular meetings and video conferences with employees also let you keep your team members in the loop about what's happening in the company and provide them with a regular update about the project.
Stay Focused on Output, Not the Activity
You will not see your team directly and oversee what your team is working on while creating a remote work culture. So the vital thing is you need to avoid micromanaging your employees.
Rather than constantly evaluating whether your team is productive or not, you have to focus on the output they deliver.
When the outcome of employees' work remains acceptable, and they can complete the task before meeting the deadline, micromanaging your remote teams' activity is not necessary.
Just what you expect from employees is their outcome, not their activity. So when they can provide output within the scheduled time frame, micromanaging wastes your time and gives them pressure.
Use Time and Project Tracking Tools
While managing remote employees, you need to use online time and project tracking tools to manage employees effectively.
It is impossible to supervise every employee in remote working culture and evaluate their performance as working physically inside the office desk.
While working from home, employees get freedom, and some might end up being unproductive all day.
Therefore, it is essential to use time tracking software and track the time to know how much time they spend working on a project.
There are different time tracking tools like timeTracko, TimeDoctor, RescueTime, Toggl, and many more with varying features like time tracking, project management, monitoring employees' productivity, tracking billable and non-billable hours, and so on.
These tools help you establish trust with employees to see their performance from a dashboard in real-time.
Similarly, different online project management tools like Jira, Asana, Trello, Github, and more help you manage every project. It helps you organize every file and document in a single place and keep it securely.
Offer Praise and Rewards
To enhance your remote teams' efficiency and productivity, you need to praise them for their work and provide productivity rewards.
Some employees are hard-working while some are not, so praising hard workers is necessary. When you praise your employees for their hard work, they will become happier.
Employees who always meet your expectations should be rewarded, which motivates them to perform more work.
The rewards can be bonuses, promotions, increasing salary, and simple congratulations to add positive energy to employees.
Utilize the Technology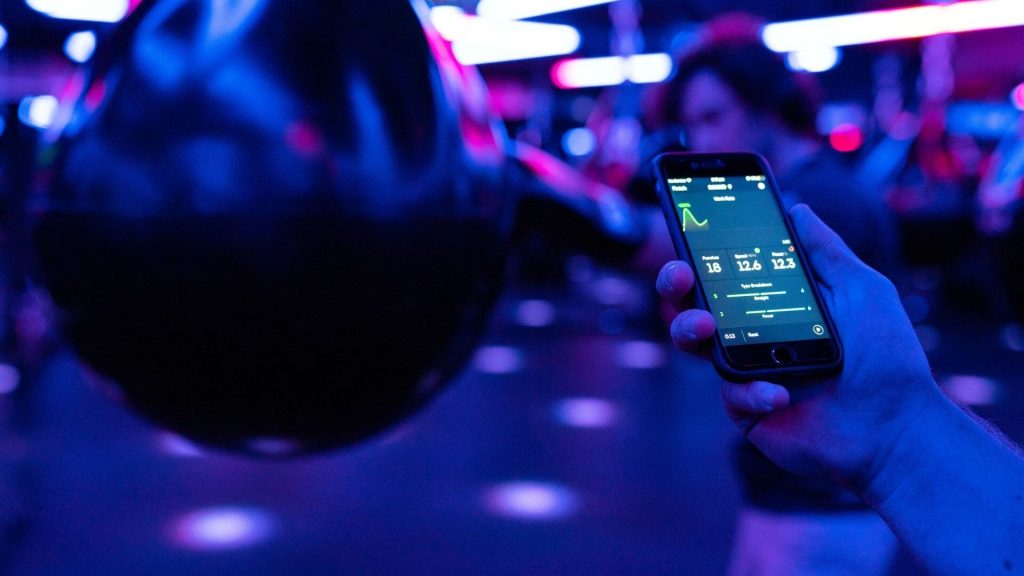 With the development of technology such as video conferencing apps like Zoom, Skype, Jitsi, Google Hangouts, etc., online project management software is getting popular due to the rise in remote work culture.
If you use the right technology, you can stay fully connected with your team, no matter where they work.
These tools allow you to share files, complete meetings through video conferences, assign tasks to each team member, schedule employees' shifts, monitor their progress, and identify productive, unproductive, and idle employees.
As a manager, it is your responsibility to engage your remote teams by making them comfortable interacting with team members.
For better collaboration and communication, tools like Slack and Microsoft Teams are better to keep your team engaged as it allows you to create a communication channel.
Most companies are adopting digital technology that might be complicated to use in the beginning.
But when you get used to these technologies, you will maximize output and provide flexibility to employees while working.
Therefore, you should review the technology and choose the right tools for managing your remote teams based on their features and prices.
Create a Communication Strategy
You have to create a communication strategy by selecting the proper communication tool as remote working is not a few times.
Having the right tools to communicate with employees is the key point that makes you sure that the project will succeed.
Even if your remote teams have all the resources available but lack communication strategy, there might be a chance to get the task incomplete.
Good communication is vital when you plan to manage your remote team successfully. It is always possible to maintain the same communication level when your entire team works inside the office; only you cannot meet them in person.
Similarly, you need to keep an open communication line with every employee equally and develop a communication strategy that will work best for you and your team.
So creating a long-term goal and working from home requires adequate communication with co-workers.
You need to select a proper communication tool to support all the team members to communicate whenever they want.
Conclusion
In conclusion, the above tips help you support remote teams and maximize your organization's profit.
Each of the tips seems simple but not more comfortable to manage. All of them require time, attention, consistency, and priority.
Once you manage these tips, you can create long-term support for your remote teams, benefiting your organization.
How do you support your remote teams? Please mention this in the comment section below.