10 Must-Have Soft Skills for Remote Work
10 Must-Have Soft Skills for Remote Work
The world scenario has widely shifted from daily in-office duties to the adoption of either hybrid working or remote work.
A remote job is easy and, at the same time, throws a lot of challenges both to the employee and employer and human resource professionals.
It is a must for the entire office members to follow certain rules and criteria and learn soft skills for remote work.
Remote working is arduous as it requires a stable internet connection, the perfect medium for communication.
Within the same communication, a remote worker is distant from his employee and lacks face-to-face communication.
The direct exchange of dialects with eye contact and body language is absent, similar to social media.
How do Proper Soft Skills And Remote Work Relate?
Remote work can get daunting, leading to unnecessary assumptions and misunderstandings about members of remote teams.
It is advised to learn soft skills so that the good rapport of the duty holders remains the same and remains unaltered. Working from home has its pros and cons.
When you are remotely interacting with your colleagues, it is equally important to maintain proper discipline, abide by regulations, and not be away from your responsibilities.
Soft skills are jewels for conflict management and resolution in an organization and to search for jobs.
10 Must-Have Soft Skills For Remote Work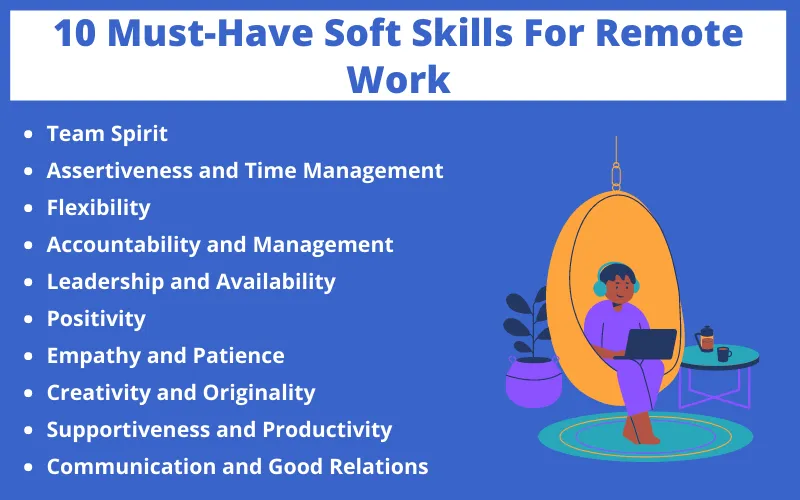 Employee engagement is a must for your work-life to remain fresh even from a remote place and maintain leadership, positivity, and smooth work output.
Combining the hardcore skills of professionals and the new soft skills will help the overall workflow meticulously. Some must-have soft skills are:
Team Spirit
The spirit of working together is accompanied by self-growth that leads to the comprehensive heightening of the entire team. Having a high team spirit includes proper team building and teamwork.
While working remotely, this spirit should be no less, and each member should encourage each other for better inputs and dispatch bona fide outputs.
The entire team should focus on one goal of achieving the best and always remember that "We are all part of the same team."
When one team member lacks something, the other member can support and help them.
For instance, your team member has excellent communication skills to explain remote situations, but you are good at writing, and you can both help each other improve and perform better.
Assertiveness and Time Management
Working from home gives you no excuse to report late or not meet deadlines, and it is when you are virtually present at the office but actually at home where situations may bind and disturb you often.
So the remote worker should balance the differences and report on time concerning project management.
All love an enthusiastic, bright, and confident employee. A worker must know the intensity of work allotted and spend time accordingly for proper time management rather than sparingly losing answerability when questioned.
For instance, you have to attend a very important family gathering tomorrow but are scheduled for emergency work for a few hours.
If you cannot get it done by tomorrow, let other human resource department members know that you need leave and cannot continue work. Or work some extra time to complete the task on time.
Flexibility
The flexibility of one's mindset plays a vital role in perceiving and understanding things.
Intellectual humility is essential for accepting mistakes and helps narrow the ignorance that doesn't uplift an individual, especially working for a small company.
Having a rigid mentality and not welcoming new prospects may lead to more problems professionally. So keeping a flexible mindset is always a plus point while working physically away from your office.
For example, if one of the colleagues in remote work cannot understand what error you are pointing out. The colleague thinks they are correct and is rigid about the idea of incorrect understanding.
In this situation, try to make the individual more flexible by explaining the right idea and teaching them patience.
Accountability and Management
It is better when an employee responds boldly and positively to anything asked or held responsible for. Being accountable also includes properly utilizing resources available for a particular work in a virtual team.
In a remote company, the resources may lag sometimes, and the employee can develop the soft skill of management with available resources and be answerable and take charge of assigned duties.
For instance, you are traveling, and the internet in that area weakens at times. Find other means to connect to the internet and use managerial skills to cope with any difficulties to connect to the workplace.
Leadership and Availability
A good leader with leadership and critical thinking can guide and uplift colleagues no matter how far, and for that, the employee should be present and available at the time required.
What one employee needs improvement on may not be the same for others.
So in remote working, a leader must influence and set an example for team members so that the other members look up to the head and work proficiently.
The vision of work of the leader should not be affected by remote working.
For instance, the work officials require you to finish a task by working overtime. Take the lead to complete the task and be available when they require assistance regarding any matter.
This act will encourage other members to work as much as possible, even remotely available.
Positivity
The positivity, fun, and togetherness among team members in an office require continuity even in remote working. The remote working skills of being positive even in difficult situations will cheer up the entire group and its members.
When one digital nomad is going through some hard times or when there are some problems in remote work, the positivity of another digital nomad can bring new ideas.
Having a positive personality makes everyone happy, and misunderstanding is less.
For example, the deadline for the task of the whole team is assigned in a few days, and the work is under completion, and there is little hope that the work will finish on time.
In this situation, be positive, spread positivity and fill the virtual meeting room with positivity such that there is no scenario of panic.
Empathy and Patience
One of the biggest soft skills is empathy, one of the skills for successful work life. Empathy is when you put yourself in somebody else's shoes and work accordingly.
There can be a situation in remote working that demands a lot of work pressure, and the task-giver should try to remove the stress on the employee in the workplace.
Similarly, the task receiver should develop patience and perseverance to understand the work pressure of the task giver.
This scenario creates a cooperative working environment and benefits the whole workplace. Both should conduct themselves with a strong work ethic and collaborate accordingly.
For instance, one of your team members needs a break for a day, and the work needs to be completed simultaneously.
You can ask the supervisor to grant them leave and, if possible, you can work on some part of your friend's chore.
Creativity and Originality
Every employee should develop creative ways and critical thinking to solve the problem. The products or processes are reviewed and revised when original ideas are invented.
When each member uses their creativity, it is easier to cope with any problem that arises in the institution.
In remote jobs, one member's idea may turn out to give amazing results for the other remote team members.
The constant communication and sharing of ideas and visions are mandatory for all workers working away from the office.
Communication is what workers need in 2022 and working in a remote company requires it more.
For this, all the members can sit together with common topics and give out their ideas and visions.
This activity will broaden the mind, and everyone will learn something from each other and benefit from problem-solving.
The virtual team can interact on social media during off time to talk about the same topics.
Supportiveness and Productivity
The work scenario demands a support system from each employee such that one member supports the other as a complete guide.
Every member is responsible for protecting and helping others in need of emotional or moral support. In times of failure or mistakes, it is essential to develop the habit of supportiveness toward the other member.
The main aim of any organization or office is to conduct work productively with time management. The priority of tasks and their completion on time is required.
Project managers and group heads can encourage productivity in remote working. The situation of a work analysis is possible by analyzing remote work statistics before and at the present moment.
For instance, there is a project everyone is working remotely on. The remote working may get boring so the leader can organize some online games or functions for refreshments.
Refreshments will freshen up minds, and the productivity of employees increases.
Communication and Good Relations
There is a problem between team members when there is a lack of communication. Communication is the soft skill needed to resolve a conflict or even find a solution to new ideas.
It is the means of expressing and explaining oneself. In remote work, explaining things to other members is very important.
Proper and healthy communication secures good and harmonious relations between the employee and employer.
Communicating helps in the overall evolution of the institution and benefits the work completion and meeting individual goals.
Brushing Up On Your Present Soft Skills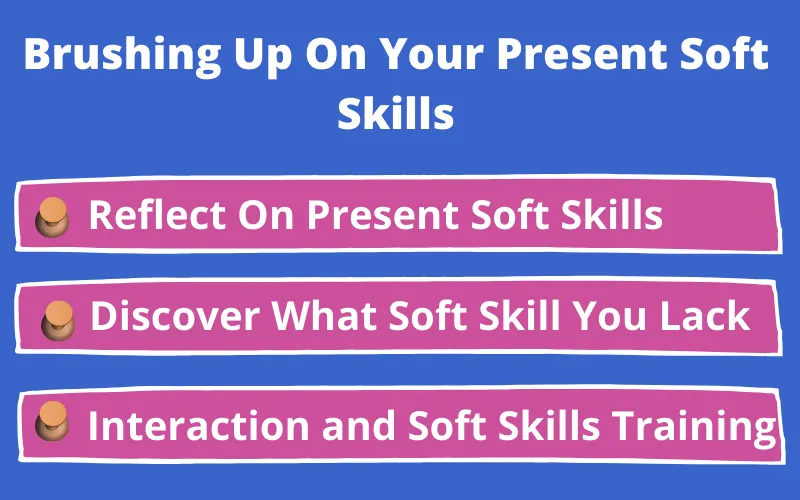 We all have some soft skills but may not be aware of them. With good communication skills, one should develop the skill of listening too.
We learn by listening and questioning ourselves. It is beneficial if we sit down and analyze our behaviors and how we portray ourselves in front of others.
It is better to learn, observe, and figure out what is missing and what is already there for working on your soft skills. Here are some ways to brush up on your present soft skills and add other remaining ones:
Reflect On Present Soft Skills
You can begin by observing your habits and jotting down the skills you feel you have. There are some online tests for helping you know yourself better.
For the skills you already have, you can brush them up by enhancing more of such behavior. The office can make some investments in the individual development of soft skills.
You can have an open discussion about improving soft skills and help those who lack the quality you possess.
While you teach others to progress in that skill, your skill is sharpened, and you perform better. You need to work with honesty and develop harmonious relations, implementing your soft skills.
Discover What Soft Skill You Lack
The next step is figuring out what soft skill you adore about others. By asking them and learning from them, you can work on your soft skills.
You may have an excellent working capability to meet deadlines but may fail to communicate openly.
You can ask the extrovert in your group to help you open up a little more. It is better to learn to express the work and work processes you follow.
Once you trace out what is lacking, you can further improve on remaining soft skills.
Interaction and Soft Skills Training
There are classes available for people interested in improving soft skills that provide soft skills and training. Soft skills include communication, for which you need to be around people.
Meeting new people and interacting with them using the latest soft skills acquired is a good idea.
You can join volunteering programs and interact with people to learn from them. For instance, your cousin is very soft-spoken, and you wish to learn that skill from her.
You can ask her, hang out with her, and meet new people to practice and work upon your tone.
Conclusion
While the working environment is competitive, it is essential for work enthusiasts to develop soft skills for getting hired remotely.
These skills, including writing a proper cover letter, assist more when you are getting hired remotely and need to work with individuals you have never met live and are connected via virtual means.
It is high time to polish and focus on soft skills and another job search with the skills needed for the profession.